Here is what customer's are saying about their experiences with Team Toyota. You can Read Below, Watch this video and view more of Team Toyota's Happy Customers on our You Tube Channel and Facebook Page: View Happy Customers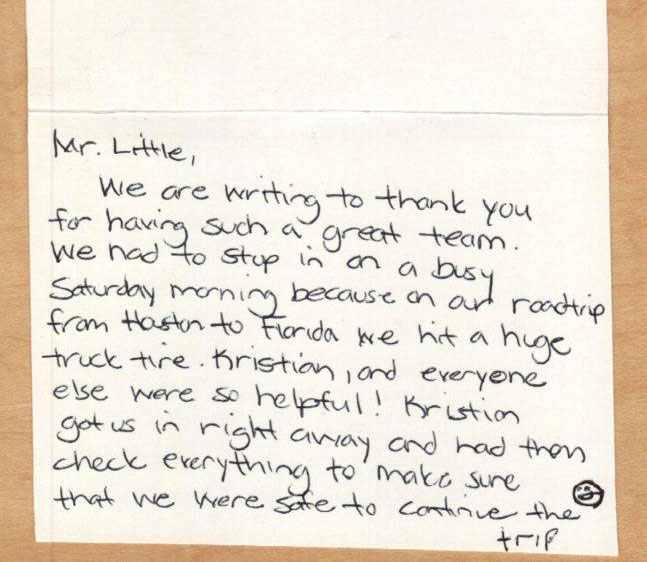 Just bought a new Camry at Team Toyota. Monica London was a super salesperson and Steven Irwin closed the deal. I had a great experience and am lovin' my new Toyota.
I want to let everyone know how pleased I was with Monica London. She is very friendly and helpful and made my car buying experience hassle free. So much so that I have bought two trucks from her already!!!! Thanks for all the great work that you do.


I purchased a Toyota Sequoia from your dealership the sales person Ricky was so good to me and my husband he treated us like family and gave us a great deal and i love my new truck he made buying a Toyota vehicle a experience i will never forget . thanks Cassandra and Christopher Dancey


Debora R.
Baton Rouge, LA
7/27/2012 4 Stars
Paul Pecue and Henry Adebutu, a.k.a. Prince, made a painful experience less painful. I worked with Paul online and that really reduced my time spent in the dealership. Overall, I am happy with my purchase and will consider Team Toyota for my future purchases. I would recommend to anyone considering purchasing a Toyota or Scion to give Team a chance to meet their needs. The financing was super easy also. Thanks guys!! I will tell my friends.
Once again, our trip to see these guys was worth the wait. To Gwen, Henry, Steve, Christina, and all who made it happen and got us out the door bright and shiney...THANKS! ? with Susan Spence Curtis.




John W, GREENWEL SPGS, LA
This was my first time doing what they call an in and out. Although it was a long process because I had to find ways to come up with the money (because I'm from Australia) they made it a pleasant experience. Kortney and his manager were very kind and helpful and also patient. Me and my buddy Brian are very satisfied and will be sure to recommend others to this dealership! Great Job guys. (Listed on Yelp.com)


Brian B.

Baton Rouge, LA

7/29/2012

5 Stars
I was on the other side of the in and out deal Mr. West was talking about, and I must say he is completely right about everything. Kortney was every bit of patient and helpful. I went in just to purchase a red sr5 Tacoma and ended up purchasing a TSS package for cheaper. Will definitely recommend and continue business.


We had a great experience at Team Toyota with Kortney & Steve. They were well informed and gave us great information and answered all our questions. I would highly recommend to my friends & family to ask for either of these gentlemen. It was a pleasure doing business with both men!!!!!!!





John W, GREENWEL SPGS, LA
This was my first time doing what they call an in and out. Although it was a long process because I had to find ways to come up with the money (because I'm from Australia) they made it a pleasant experience. Kortney and his manager were very kind and helpful and also patient. Me and my buddy Brian are very satisfied and will be sure to recommend others to this dealership! Great Job guys.


Mr. Lee Hogan was exceptional. He greeted me in the parking lot before I even got out of my vehicle.
He asked how he could help me.

He got me a new vehicle when I thought it was hopeless.

He has been there every step of the way.


S. Tisdale

Your salesman, Millard West, understood my needs and was spot on with recommendations and follow-up assistance.

J. Flynn

Mr. Baltazar is an excellent salesman. He went through every detail of my new vehicle.

D. Robinson-Green

The staff answered all my questions and explained everything in detail!

J. Easley

It was nice to talk to friendly a salesman.

N. Travis

GREAT IN EVERY WAY!

P. Indest

I had many concerns regarding my purchase as compared to a leasing option. The Toyota team was very patient with me and led me to making the most feasible decision.

V. McKeel

The sales and customer service were surprisingly good. Although, I absolutely HATE price haggling (especially when a trade is involved), these guys were not ridiculously off the mark. I had recommended the 2011 Toyota 4 Runner and Team Toyota to my Dad (based on the recommendations of my neice, who had just purchased a black, 2011 4 Runner a few weeks earlier). My Dad bought the Blizzard White Pearl 4 Runner one week before we bought our Magnetic Gray Metallic 4 Runner. We were all pleased with our experience and have recommended this location to others.

J. Wilson

The Dealership Continued To Contact Me After I Told Them What I Was Looking For In A Car And When They Recieved The Car They Gave Me A Call. They Were Very Helpful And Considerate.

L. Augustus

My overall experience with Team Toyota was great. It gave me a whole new perspective of what an ideal auto purchase could be. Steve Lobue is a definite asset to your company. He was very knowledgeable, professional, efficient, and listened to what I wanted?. and delivered in a timely manner. Thank you, Gail

G. Carr

Cecil Smith was knowledgeable, helpful, and thorough. This was the first car buying experience that was actually pleasant.

M. Hendon

The one on one experience was wonderful the salesmen Eric, Cecil, and most definitely Butch are absolutely wonderful people to deal with...Team Toyota puts pride in who they have on board...

B. Ellis

Mr. Al, our salesman was excellent.

G. Broussard

MET MY NEEDS AND PRICE.

J. Haney

Very friendly and helpful. Great experience.

T. Boudreaux

Excellent job!

E. Steib

Cecil Smith was amazing! I loved working with him. I liked his no-nonsense approach. He asked the right questions to figure what I wanted, when I didn't even know what I was looking for. He actually listened to me and was able to match me with the perfect vehicle for me. I'm so excited about my purchase. He was great.

H. Norwood

I have been searching for a car for about 4 months, and was about to give up. But thanks to Team-Toyota and Mr. Lee, my salesperson, I was about to get into a nice vehicle. Thanks Team-Toyota, Mr. Lee!!

E. Thomas

I was undecided what car I wanted. Steve Lobue was very patient with me. He showed me several cars. I liked that he was not pushy and let me take my time to decide what I wanted. He made me and my husband feel comfortable.

B. Perkins

Caring.

M. Landry

Very friendly and willing to work to satisfy customers.

D. Prudhomme

Very professional, patient, and kind.

H. Bergeron

I feel they went above and beyond the call of duty to make sure we were satisfied with the color. They were courteous, polite and most of all, very professional. They were also considerate of our feelings and time.

E. Beauchamp

Excellent services with outstanding prices.

D. Prudhomme

Everyone at Team went out of their way to make my time at Team memorable! For this I will give Team the highest recommendation to friends and family.

L. Gueydan

I was at the dealership for service only. While I was looking at the new cars just to kill some time, Mr. Opusunju greeted me with a big smile and introduced himself. I told him I was not interested in buying; I was only dreaming. He asked me to give him a chance to make my dreams come true. I told him the only way I would buy a new car was if he could give me the new 2011 Corolla for the same note I was paying for my 2006 Corolla. He came back with a quote of a dollar less. Needless to say I was in shock! He exceeded my wildest dreams and greatest expectations.

D. Fletcher

I was placed in a very nice vehicle with no down payment or trade-in, and with bad credit. You gave me a chance!

F. McCorkle

I didn't feel like I was being pressured into buying.

C. Wilson




The finance manager Curtis went above and beyond to get me approved.

A Robinson

Tried to help with expenses I am especially appreciative the work with Curtis Hopkins. He is an asset to Team Toyota. Henry is nice too.

J. Goodwin

This was the purchase of my fifth Toyota from Team Toyota and the staff, both sales and service, have always treated me with the utmost respect and courtesy. They have gone out of their way to keep my business.

M. Ibert

Simply excellent experience!

R. Warren

Fair and honest. Easy to deal with. THANKS!

M. McCaleb

Very friendly Mr. Lee Hogan is a great person and cares and follows up This is my 3rd vehicle in 2 yrs!

F. Ragsdale

When the original vehicle I had negotiated a price on was unavailable, the dealership was able to immediately locate another very similar vehicle. Even though it had an additional option worth several hundred dollars, they did not increase the price agreed upon. Also, a FULL tank of gas--need I say more?

D. Thomas

Courteous, fast to greet us, helpful!

D. Stevenson

Good salesman that took care of us during our purchase.

T TASSIN

Prompt and excellent service. Salesman did a perfect job. We love our 2011 Camry.

W. BOUDIN,

This is my second vehicle from Team and I always tell everyone to go to Team to get the best deals and excellent service! Mr. Lee found the perfect vehicle for us! We looked at 6 different Tundra's and finally picked the one with the best deal!

L. PORCHE

Mr. Lee Hogan made every attempt to make this process convenient for me and proved that he goes above and beyond to please his customers. I had to miss very little time from work because of this and it definitely made a HUGE impression on me. I will be a repeat customer as a result of this and I have raved to my coworkers the excellent service I received from him.

C. CLOUTIER

Every Salesperson and staff member was so helpful with answering questions, great customer service, friendly, and knowledgeable about the cars that are sold at Team Toyota. I have never experienced a car shopping experience like this one. Thanks Team-Toyota!

T. JACKSON

The entire staff at Team was very warm and kind and willing to help us with anything. Our salesman Ron Jackson was spot on with his honesty and eagerness to make sure my family made a great purchase that worked with our budget! Overall it was a wonderful experience and we will be back!

L. DANIEL

YOUR SALES PERSON (MICKEY BORDELON) WAS VERY GOOD ANSWERING ALL MY QUESTIONS ABOUT MY NEW TUNDRA. VERY NICE, NOT PUSHY AND REALLY CALM AND COOL. AS FAR BACK AS I CAN REMEMBER, HE IS THE BEST CAR SALES PERSON I'VE EVER DEALT WITH. HE HAS CALLED ME SINCE I BOUGHT THE TUNDRA AND ASKED ME HOW I WAS DOING, AND IF HE COULD HELP ME IN ANY WAY. ALSO SHELLY GRAVES WAS VERY GOOD WITH HER PRESENTATION ON ALL THE IMFORMATION WE NEEDED FOR THE PURCHASE. TRULY A GOOD TEAM @ TEAM TOYOTA. THIS IS MY FIRST TOYOTA. I LUV MY TUNDRA!

M. COKER

Cecil smith was professional, personable, and very knowledgeable about his vehicles/tundra it was a pleasure to deal with him. Plus the fact that you sort of revamped the truck it had a few issues, to get it in safe and like new condition to make it certifiable. I feel like I'm riding in a new/2011 tundra and i know i can count on it to do or go anywhere with confidence for a long time to come. I will recommend team Toyota to all i know, and when we buy a new/used vehicle for my wife next summer i'll be headed for team Toyota. All in all a great experience. Keep up the good work gentlemen

S. HAMPTON

Willing to work with what we were look for. Then locating the vehicle we wanting at an fair price.

P. THOMPSON

The Story of Rusty Sanchez

John Irving and I purchased a 99 Tacoma 4wd and a 98 Tacoma Xtracab Prerunner from a junk yard. Both vehicles had front and rear crash damage. They had been sitting in the junk yard for 7 years, with the last inspection sticker having been performed 8 years prior. The engines were exposed to the weather; all the hoses and connections had rotted from exposure to the elements. We took both trucks and ripped them apart to get pieces to build one truck. After piecing together the new Tacoma we hooked the battery cable up and instantly all the electronics came on, working perfectly. The engine, exhaust, radiator?everything was full of pecans from a rat that had inhabited the vehicle. Anywhere that could have possibly stored a pecan was filled to the brim. We turned the key, got a sputter for about 5 minutes and boom! The engine came to life. Pecans came shooting out from everywhere! We got 30000 miles out of that wonderful truck without ever changing a part on it, no seals, water pumps, alternators or starters?nothing. Even the a/c worked once we added a little Freon. That day I traded in every car I owned and to this day, I only drive Toyota!

Rusty Sanchez

I was able to purchase a vehicle with no hassle.

M. Piscitello

From the time I entered Team's parking lot everyone welcomed me. Mr. Russell Baltazar was so wonderful! i came there not knowing i was going to leave with a Venza.

E. Francois

This is the second vehicle I purchased from Team and I have been very pleased with the service.

T. Schexnyder

I was not pressured into buying a vehicle. Eric was very accommodating and answered all my questions. He knew that I was serious about my purchase and would not listen to a bunch of BS. I really want to thank him for that.

K. Giammanco

Our salesman Eric Bradley and his boss looked at the inventory for something that met our needs and sent us pictures and information of each car. They saw our needs and were more interested in making sure we got what we were looking for rather than trying to just sell us anything.

C. Scott

Our salesman Sammy and sales manager Terrell went out of their way to get a note I was comfortable with.

D. Williams

The dealer was very knowledgeable about the vehicles and friendly.

D. Johnson

Great customer service was provided.

K. Bordelon

Always excellent service every time I come in. This is my fourth purchase.

J. Johnson

Great customer service.

R. Bordelon

My salesman, Mr. Henry was very helpful and was very concerned about my satisfaction and happiness. He helped me to choose the perfect vehicle for me.

T. Taylor

Salesmen did everything he promised and more!

P. Hayes

It was a pleasure to do business with Team Toyota. I will definitely be back for my next vehicle!

E. Pippin

The knowledge of the product by employees was, in my opinion, far superior compared to the local area competitor dealerships. Kudos

J. Corbin

This was my first time buying a car and Louis Freeman made my experience enjoyable and helped ease what nervousness that I was feeling. I felt welcomed, like I was joining a new family

K. Eaglin

Polite and charming salesman and very knowledgeable of the product

E. Waldrop

My salesman Eric Bradley was the best ! Most car salesmen are just trying to make a sale and put you in any car whether you like it or not. Eric made sure I was comfortable and my needs were met. I would buy a car from him anytime! He is a great asset to your company. You would be stupid to let him go!

S. Larieu

No High Pressure!!

J. Smith

Mr Jenkins made this transaction the best I have ever been involved in. Kudos to Mr Jenkins.

B. Durio

By keeping your word. our dreams came true. Thanks!

M. Brew

Expressed concerned that I wasn't a 100% sure that the vehicle would pull my boat. To my surprise I was told take the vehicle and test pull my boat, which I did and this set all of my concerns to rest this. This went above and beyond my expectations and lead to the purchase of the 2011 4runner from Team Toyota. As long as you continue treating customers in this professional manner you will have a long term customer.

As a side note I recently purchased a Honda from Team Honda and that purchasing experience there lead me to your dealership.

Oh, I did have to pass another Toyota dealership less than 5 miles from my home to get to your location?..

J. Burns

All team members went above and beyond to make sure I made an informed decision.

D. Williams

NO pressure and all of my questions were answered immediately.

E. Ellis

LOUIS FREEMAN AND CURTIS HOPKINS WORKED BEYOND WHAT I EXPECTED TO GET THE VEHICLE THAT I WANTED VERSUS THE VEHICLE THAT I WAS INITIALLY INTERESTED IN.

D. Wright

Most comfortable car purchase I've ever experienced. Ron Jackson was wonderful. I feel fortunate that he answered the call my husband made!

T. Findley

Paul just wanted to take this opportunity to thank you and your team for the way you handled everything today, and for your kindness. Never experienced such a degree of professionalism in any car purchase, EVER! J. Moseley

Guys, Thank You so very much for an awesome car buying experience. Adam Deville, you were fantastic! Totally worth the drive from Alexandria.

G Major

Written by lamarb This is the Best Dealer Service Department I've Ever Experienced

Recommend this dealer? YesTeam Toyota Scion

In absolutely every category this dealer provides the very best service and customer environment I've ever seen. The service writer is knowledgeable and helpful, the shop is fast and thorough and the waiting area is clean. The waiting area has HDTV, coffee, soft drinks and snacks and even comfortable chairs!

Written by highlanderofbr 1st dealer I've enjoyed dealing with Recommend this dealer? YesTeam Toyota Scion

I had 2 minor recalls and 1 major done as well as a strange defect on the strut that lifts the rear glass. Everything was done when they stated and I spent less than 5 min. handing off the car as well as picking it up. I highly recommend them. They have made a habit out of going over and above for me.

"Great service department I've brought my car here several times for maintenance and repairs. They treat their customers like royalty. You get prompt attention when you walk in. They do a thorough inspection; you're informed about everything and are given all of your ..."? - Sally L. ?

"Team Toyota Internet Department Exceeded I emailed Team Toyota, within a matter of minutes I received a response from Steve, that included the answers to all of my questions. They were very knowledgeable about the cars and the internet. They did not give me a price right away ..."? - Missy B.

My husband and I recently purchased a used vehicle from Team Toyota of BR. We were absolutely pleased with our experience and would recommend them to anyone shopping for a new or used vehicle. They were knowledgeable, friendly, and made sure that we were completely happy and comfortable with our purchase. My Brother and sister-in-law also purchased their car from TTBR and were as pleased with their experience as my husband and I were. Our salesman was Eric Bradley and we loved working with him.

I got a through guide of car, Manuel, service procedures, & features. The agent even set my heater on low since it was a cold night! Everything was wonderful!

A. AUCOIN

There was concern and the desire to let me get a good car; the one that I like. Did not want me to leave without being satisfied. There was great professionalism exhibited by the salespersons and even at the finance office.

J. ASAM

MR. Ron went out of his way to make me and my family feel comfortable we need more salesman like Mr. Ron.

M. RICHARDSON

THUMBS UP FOR SALESMAN MILLIARD AT TEAM TOYOTA BATON ROUGE, LA

E. FARLOW

Alex seemed like he really cared about getting me the truck I wanted at the price I wanted.

C. LEMOINE

Everyone was just so helpful!!! I feel like I got the best deal for my car.

ARMSTEAD

Everything from getting the fair value for my trade to signing the final paperwork took significantly less time that I would have expected at other dealerships. Team Scion has won my loyalty with their friendliness, fairness and excellent customer service. Thank you especially to Emile and Paul.

V. REECE

The dealership offered to help me by holding the vehicle until Christmas, because it is a gift for my wife. Also, I was in and out in one hour, that was very much so a great way to exceed my expectations. The dealership is helping me by holding the vehicle until Christmas, because it is a gift for my wife. Therefore I have not taken delivery of the vehicle yet so the three items above are in anticipation of an excellent delivery when I do get it.

J. MUMPHREY

Very friendly and knowledgeable.

R. SCALLAN III

Very friendly and courteous salesman, as well as staff. Received an excellent deal.

B. SPURLOCK

Very pleasant experience all around. Salesperson was very personable and accommodated us from start to finish.

R. LAFOSSE

Everyone was extremely courteous and friendly. Have never had a more satisfying experience when purchasing an automobile..

S. ROBERTS

Salesman was very nice and professional No pressure from salesman

M. KINNEY

Really friendly people on staff. Fantastic shopping experience. Quick,caring sales people. Will recommend dealership to all our friends and family. Thank you very much.

R. CUEN

This is my 3rd purchase from Team Toyota and I have always had a wonderful experience. I appreciated my experience without the "bull" that is typical of most sales reps. My questions were answered truthfully.

R. CANNON

I was very direct in what I wanted and your team was ready to close the deal.

K. MIKESELL

Another dealer wasted a couple hours of my time recently by essentially lying to me about what price they would offer. Team Toyota was honest and straightforward up front, and the whole experience was extremely smooth. I'd definitely recommend them.

D. MOBLEY

Emile was a great salesman, not pushy at all, and very knowledgeable about the Tundra. I would recommend him to any of my firends or family!

H. MCCARLEY

My car was delivered to me. I was informed about everything concerning my car. They talked me through the process. It was great.

M. PORTER

what i did like about the my sale is that i did not have to be physically in the showroom i did it all by phone and viewing your selection of cars on the website

G. CATTLES

Very friendly, knowledgeable folks! Every dept seemed to strive to make their customers happy and reflect on the dealership in a very positive manner. The workers all seemed to have a very positive attitude for the dealership they work for which is great for business.

A MUCULLOUGH

My sellsman was very professional, took his time to find us the best deal and was determined to get us the best price offered!! I was so amazed to receive such a low price. Team Toyota is great!!

C. HUGHES

Team Toyota and especially Brian Stansberry exceeded my expectations because this was my first big purchase as a young adult and you gave me a chance to do this. He as well as your team made me feel comfortable and secure in my decision to purchase from your dealership. Most importantly, they were professional. My father who assisted me in my purchase had high compliments for Brian and your team, which is very signficant in the fact that he doesn't hand out these compliments very often. Driving my car now, I feel so safe and secure and I thank your team. Thank you.

K. SMITH

With professionalism and concern to satisfy me as a customer. The knowledge of the vehicles and the assistance from the business office to financial the vehicle. It is a pleasure to purchase a vehicle at this dealership. This was a good purchase for me.

D. BROWN

Theresa M., This review is for: Team Toyota Service Department

Just wanted to tell you about the Team Toyota Service Department. They are the best. My husband's Tundra needed a new starter and not only did they not sell him the starter, but told him that he could probably just replace the contacts and that would fix the problem. Sure enough he just put on the contact and it starts great. I just wanted to ring their bell for telling him this when he could have bought the starter ( much more expensive).